YOU CAN TEACH COMPUTER SCIENCE!
You don't have to be a software developer to teach computer science. More than one million teachers have brought computer science to their students using Code.org. We make it easy, no matter your background.
Join us this year for virtual CS Fundamentals (K-5) professional learning workshops at no cost to you. One optional credit is available in connection with this professional learning. Credit registration takes place after the first workshop meeting.
The Computer Science Fundamentals (CSF) course is designed for K-5 elementary educators new to teaching computer science who want to explore how to begin teaching the CS Fundamentals curriculum. Teachers say our elementary courses are "totally awesome sauce" and fun for all students, even pre-readers.
Join our experienced Alaskan facilitators online to get an introduction to computer science, overviews of the online curriculum and teacher dashboard, as well as strategies for teaching "unplugged" classroom activities that can be taught in person or online!
In Alaska, Code.org is used in over a quarter of the elementary schools. Code.org, Alaska Staff Development Network, and Alaskan facilitators have provided professional learning for almost 1,000 K-5 teachers in Computer Science Fundamentals.
CS Fundamentals K-5
The Intro workshops are presented via in-person and virtual options throughout the school year. The virtual option provides equitable access to professional learning that did not exist previously in our very large state. In this workshop, participants receive a hands-on intro to computer science, pedagogy, overviews of the curriculum, and teacher dashboard, as well as strategies for supporting equitable CS education in their classrooms.
Code offers six CS Fundamentals courses that are flexibly designed for teachers new to CS who want to offer accessible and equitable introductory CS courses to their students.
The progression of courses A-F builds upon each other to ensure continuing students stay interested and learn new things. This allows you to use the same course at any grade level for all students, regardless of their experience. All courses make suitable entry points for students. Later courses feature "ramp-up" lessons which are intended to introduce or review essential concepts from previous courses at an accelerated pace.
In addition to courses A-F, CS Fundamentals offers two self-paced express courses. Both are designed for situations where the teacher is not able to play an active role in engaging students. Express courses do not have unplugged lessons and instead focus on covering content from A-F counterparts in a way that can be delivered without a teacher.
VIRTUAL and IN-PERSON WORKSHOPS FOR ELEMENTARY TEACHERS – SPRING 2023 REGISTRATION OPEN!
NO COST TO YOU THIS SEMESTER, THANKS TO SUPPORT FROM OUR PARTNERS.
Workshop
Dates and Times
(You must attend all sessions)
Registration Link
Virtual Workshop*-February
*DEEP DIVE session for experienced or prior workshop attendees
February 1,8,15 (Wednesdays)
Registration
In-Person, Anchorage, Prior to the ASTE Conference
Computer Science Fundamentals K-5
February 17  (Friday)
9:00 am-4:00 pm
Registration
Virtual Workshop*-March
*DEEP DIVE session for experienced or prior workshop attendees
March 2, 7, 9
(Thurs., Tues., Thurs.)
4:00 pm -6:15 pm
Registration
Virtual Workshop-March/April
Computer Science Fundamentals K-5
March 30, April 6, 13 (Thursdays)
4:00 pm -6:15 pm
Registration
Attending the ASTE '23 Conference? ASDN is hosting a NO-COST K-5 Code.org learning opportunity. On February 17, 2023, the day before the annual ASTE Conference, you can learn to teach computer science, encourage critical thinking and collaboration. The workshop is designed for beginners and experienced teachers both. Includes a free workshop, curriculum, curriculum guide, swag and lunch. One optional 500-level credit available from UAA. Register here
---
"This class was my very first exposure to computer science. I really appreciated how the class took something that seems like a big and scary study and presented it in very manageable steps…I am most excited that the curriculum is so clear. I feel like it will be very understandable by the students. The platform is very fun as well, so I have no doubt that there will be great student engagement."
-Lindsay, Iditarod SD, July Virtual Workshop
VIRTUAL "DEEP DIVE" SESSION
Are you one of the hundreds of elementary teachers who took Computer Science Fundamentals and are looking for a Deep Dive into the curriculum now that you have been teaching the class?
We know that implementing new computer science courses with fidelity and equity takes time, collaboration, planning and support – which is where Deep Dive workshops come in!
The Deep Dive workshop is designed for elementary educators who have started teaching CS Fundamentals but want to more deeply understand Code.org's approach to teaching CS and needed strategies to implement the curriculum fully. Developed with Code.org's professional learning values in mind, this workshop provides teachers with a hands-on learning experience with other like-minded teachers. Teachers are given the space to work through individual challenges in carefully crafted sessions led by experienced facilitators.
Through SY22/23 virtual workshops, educators will explore course materials, teaching practices, and strategies for continuing to teach CS Fundamentals. One optional credit available, Virtual workshop, attend all three sessions. Session one: February 1, 8, and 15 or Session 2: March 2, 7 and 9. More information and registration in the table above.
"I thought I knew what Computer Science was – and it was not for me- until I started using "Dance Party" on Code.org with my students about 5 years ago. The process of working through the coding skills was tough for some students and they were ready to quit, but when other students started sharing what they were creating, a change happened…
The idea of using computers to create was new. Once that was out in the open, not being perfect the first time was not such a bad thing. Creation needs persistence, problem-solving, and critical thinking… and the idea that students are creating something is more appealing than working through the lessons."
– Mandy, Anchorage, September Virtual Workshop
Contact Cheryl Bobo for additional information: cbobo@alaskaacsa.org.
---
CS FUNDAMENTALS UNPLUGGED
We've compiled a list of all of our unplugged lessons for you to use in your classroom. Now you can teach the fundamentals of computer science, whether you have computers in your classroom or not!
We refer to lessons in which students are not working on a computer as "unplugged." Students will often work with pencil and paper or physical manipulatives. These are intentionally placed kinesthetic opportunities that help students digest complicated concepts in ways that relate to their own lives.
Unplugged lessons are particularly useful for building and maintaining a collaborative classroom environment, and they are useful touchstone experiences you can refer to when introducing more abstract concepts. Each of these activities can either be used alone or with other computer science lessons on related concepts. View them here!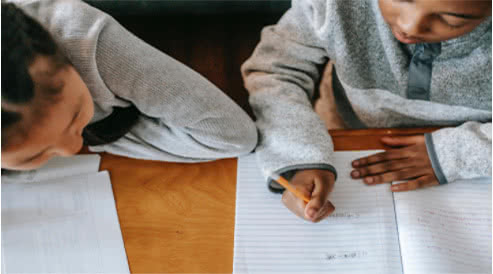 "I have a student that was not interested in school or anything about it. I printed out your code spelling. He is the most engaged I have seen him in days….Big smiles in Huslia"
Our newest curriculum makes the connections between learning computer science and other subjects like math, language arts, science, and social studies.
Through CS Connections, K-12 classrooms explore their usual subjects in exciting new ways!
They're perfect for teachers who'd like to incorporate computer science into their lesson plans for other subjects, as well as CS educators who want to reinforce what students are learning in other subjects.
---