The collaboration between Code.org, the Alaska Staff Development Network and the Alaska Council of School Administrators is working to expand access to computer science in schools throughout Alaska. Find out more about the partnership here. Code.org is a national nonprofit that believes that every student should have the opportunity to learn computer science, just like biology, chemistry or algebra.

The Code.org curriculum is the most popular in K-12 computer science, with courses for every grade band. It is used in more than 120 districts, including the 7 largest U.S. districts, and by over 700,000 teachers–including almost 1,000 teachers here in Alaska!

It's free of charge, highly-rated by teachers, and aligns with the Alaska State Computer Science Standards.
"The Code.org summer training was FANTASTIC. Very practical, met a clear need, provided all the materials needed to get started on day one upon returning to the classroom, lots on ongoing support, intellectually engaging, equitable, super organized with minimal wasted time, a comfortable learning environment, and provided open doors and opportunities to our students.
All PD should be like this."
---
Virtual Computer Science Workshops for Elementary Teachers
You CAN teach computer science
You don't have to be a software developer to teach computer science. More than one million teachers have brought computer science to their students using Code.org. We make it easy, no matter your background.
Fall 2022 Registration Open!
No cost to you this semester, thanks to support from our partners.
Location
Dates and Times
(You must attend all sessions)
Registration Link
Virtual Workshop-September
September 14, 21, 28 (Wednesdays)
Time: 4:00-6:15pm
Registration
STEAM Conference in Juneau
October 14 (9:30am-12:00pm) and
October 15 (1:00-4:00pm)
Registration
*there is a conference fee
Virtual Workshop-October
October 13, 20, 27 (Thursdays)
Time: 4:00-6:15pm
Registration
Virtual Workshop-November
November 1, 8, 15 (Tuesdays)
Time: 4:00-6:15pm
Registration
Virtual Workshop-December
December 6, 8, 13 (Tuesday/Thursday)
Time: 4:00-6:15pm
Registration
"The training was amazing and not at all what I thought it would be like! The PD provided me with the opportunity and the time to explore coding as curriculum for my students."
---
The Computer Science Fundamentals (CSF) course is designed for K-6 elementary educators new to teaching computer science who want to explore how to begin teaching the CS Fundamentals curriculum. Teachers say our elementary courses are "totally awesome sauce" and fun for all students, even pre-readers.
Join our experienced Alaskan facilitators online this fall to get an introduction to computer science, overviews of the online curriculum and teacher dashboard, as well as strategies for teaching "unplugged" classroom activities that can be taught in person or online!
In Alaska, Code.org is used in over a quarter of the elementary schools. Code.org, Alaska Staff Development Network, and Alaskan facilitators have provided professional learning for over 700 K-5 teachers in Computer Science Fundamentals.
Join us this fall for virtual CS Fundamentals (K-5) professional learning workshops at no cost to you. One optional credit is available in connection with this professional learning. Credit registration takes place after the first workshop meeting.
"This class was my very first exposure to computer science. I really appreciated how the class took something that seems like a big and scary study and presented it in very manageable steps…I am most excited that the curriculum is so clear. I feel like it will be very understandable by the students. The platform is very fun as well, so I have no doubt that there will be great student engagement."
-Lindsay, Iditarod SD, July Virtual Workshop
Virtual "Deep Dive" Session
Are you one of the hundreds of elementary teachers who took Computer Science Fundamentals and are looking for a Deep Dive into the curriculum now that you have been teaching the class?
We know that implementing new computer science courses with fidelity and equity takes time, collaboration, planning and support – which is where Deep Dive workshops come in!
Through SY22/23 virtual workshops, educators will explore course materials, teaching practices, and strategies for continuing to teach CS Fundamentals. One optional credit available, dates TBA.
Contact Cheryl Bobo for additional information: cbobo@alaskaacsa.org.
---
"I thought I knew what Computer Science was – and it was not for me- until I started using "Dance Party" on Code.org with my students about 5 years ago.  The process of working through the coding skills was tough for some students and they were ready to quit, but when other students started sharing what they were creating, a change happened…
The idea of using computers to create was new.  Once that was out in the open, not being perfect the first time was not such a bad thing.  Creation needs persistence, problem-solving, and critical thinking… and the idea that students are creating something is more appealing than working through the lessons."
– Mandy, Anchorage, September Virtual Workshop
CS Fundamentals Unplugged
We've compiled a list of all of our unplugged lessons for you to use in your classroom. Now you can teach the fundamentals of computer science, whether you have computers in your classroom or not!
We refer to lessons in which students are not working on a computer as "unplugged." Students will often work with pencil and paper or physical manipulatives. These are intentionally placed kinesthetic opportunities that help students digest complicated concepts in ways that relate to their own lives.
Unplugged lessons are particularly useful for building and maintaining a collaborative classroom environment, and they are useful touchstone experiences you can refer to when introducing more abstract concepts. Each of these activities can either be used alone or with other computer science lessons on related concepts. View them here!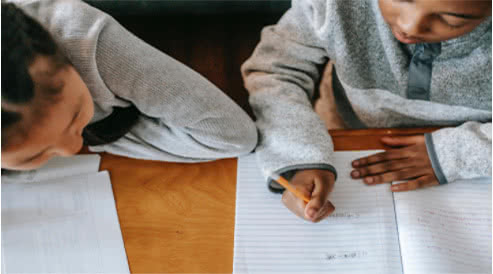 "I have a student that was not interested in school or anything about it. I printed out your code spelling. He is the most engaged I have seen him in days….Big smiles in Huslia"
---
Summer 2023 Workshops for Secondary Teachers
Computer Science Discoveries (Grade 6-10 Teachers)
In January, we will start taking applications for our Summer 2023 cohort for secondary teachers. Consider joining us for inspiring, high-quality professional development workshops with experienced Alaskan facilitators. We will have scholarships available for secondary teachers in Alaska!
The workshop takes a wide lens on computer science by covering topics such as programming, physical computing, HTML/CSS, AI and data.
Students engage with computer science as a medium for creativity, communication, problem-solving, and fun. The course inspires students as they build their own websites, apps, and games. It can be taught as a semester or year-long introductory course. Or, the different modules can be assigned to different grades to ensure CS is taught each year.
This winter we will start accepting applications for scholarships to attend no-cost, 5-day professional learning workshop next summer that will prepare you to teach computer science in SY22/23. The summer session offers the optional opportunity for teachers to earn two 500-level credits from UAA. We will offer one session in person and another session online.
The program also includes additional support sessions throughout the following school year to ensure your success.
---
Thank you to our sponsors:
Alaska Region Code.org Program Manager Cheryl Bobo Featured in National Computer Science Event
Cheryl Bobo, ASDN's Code.org Regional Partner program manager, was featured in a panel with Code.org CEO Hadi Partovi and former U.S. Secretary of Education Arne Duncan. The panel discussed why computer science is important for EVERY student. Cheryl shared how rural Alaskan educators have continued to expand computer science education across the state. View the discussion here!
---
Contact Alaska Code.org Program Manager Cheryl Bobo cbobo@alaskaacsa.org with program questions
---